Mesembs - Lithops from personal collection
Lithops lesliei f. Kimberley 8,5 (L1819))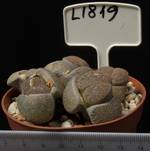 Prodajam zbirko živih kamenčkov. Seme Cole. Zadnji primerki. Raste na eni korenini.
Latin name:

Lithops lesliei f. Kimberley 8,5 (L1819))

Category:

Živi Kamni

Product code:

ZK0852021

Your price:

22,00 €

Year / age:

2010

Pot (cm):

8,5
I'm selling a collection of living stones. Seeds Cole. The latest specimens.It grows on 1 root.