Cacti from personal collection
Matucana madisoniorum (8,5)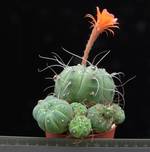 Razprodajam zbirko več kot 30 let starih kaktusov, sukulent in živih kamnov. Na voljo je po 1 ali dva komada rastlin.
Latin name:

Matucana madisoniorum (8,5)

Category:

Kaktusi

Product code:

ZK0852016

Your price:

20,00 €

Year / age:

1996

Pot (cm):

8,5
I'm selling off my personal cacti, succulents and lithops collection. Most of the plants are older then 30 years and some of them are extremely rare. There are only 1-2 plants per species.
Your search did not return any results. Please try again.