Cacti from personal collection
Turbinicarpus polaskii 2009 (10,5)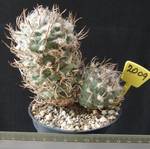 Razprodajam zbirko več kot 15 let starih kaktusov, sukulent in živih kamnov. Kaktus raste posamično in šele v starosti naredi več stranskih poganjkov.
Poslednji primerki!
Latin name:

Turbinicarpus polaskii 2009 (10,5)

Category:

Kaktusi

Product code:

ZK1052009

Your price:

25,00 €

Year / age:

1998

Pot (cm):

10,5
I sell a collection of more than 15 years old cacti. It is available 1 plants. The last example!